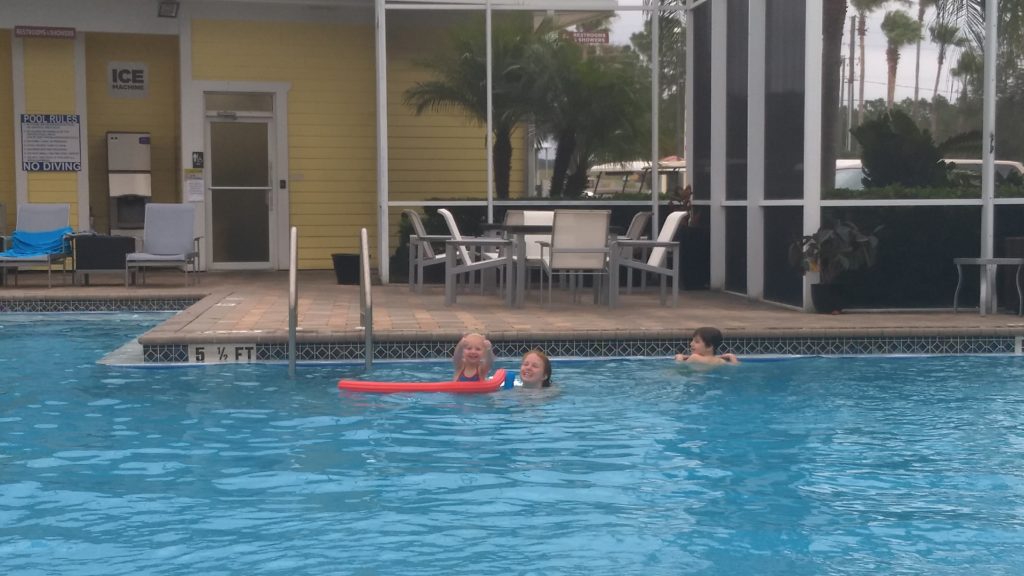 We have a grand plan of exploring the Gulf of Mexico headed west from Florida to Texas. At the same time, we want warm weather. Most of the Gulf isn't over 70 until at least March, so we decided to bide our time here in Florida before starting the journey west.
We found a place that seemed nice from the website. It was a Sun RV Resort. We've stayed at two other Sun RV Resorts and loved them – Sun-N-Fun and Ellenton Gardens. The place had a playground, large trees, and both a decent-sized pool and a kiddie pool. The rates were reasonable, so we booked two weeks.
Take note, this was all decided while we were still at Ellenton Gardens planning our route and stays – before actually staying at Lazydays.
Well, we pull in to the place, Spanish Main RV Resort, in Thonotosassa, Florida, and sort of know it's going to be a long two weeks. The park models are dirty and outdated. The travel trailers are run down and likely haven't moved in many years. But the playground was just as advertised and the pool looked clean. We check in and decide to make the best of it. The first site they gave us was too small and helped us meet an ornery "owner" who thought we were going to hit his house. The next spot was ugly, but we fit and got all set up.
We took a walk to the playground, right next to the pool, and had some fun on the swings and slides. I ventured over the pool to feel the water and it was frigid. This is after a sunny day with temperatures in the low 80s. We found out that the heater has been broken for a few months. Supposedly, it was going to be fixed "tomorrow", but I didn't believe it.
All night, I tossed and turned over what to do. Do we ask for a refund? What if we don't get it? Do we eat the loss and move on? Do we stay for a week and explore Tampa and its surroundings before leaving early? Do we start heading west sooner?
We asked for a refund and got it. Since it was only a few miles away from Lazydays, we booked another stay and headed back. For $20 more a night, we get an amazing pool, clean surroundings, free food, and a better mood. We don't yet have plans for after this stay, but it won't be long before we're westward bound.