We went to an RV show recently. I've been to 4 or 5 Auto Shows in Chicago and figured it was time I experienced another of these expos. More importantly, we're planning to buy an RV and travel the Southern USA this fall/winter. Our thought was that going to an RV show was a no-pressure way to see layouts and sizes. I was all for the smallest size we could find while Karissa wanted something closer to a small apartment.
I think I've mentioned it before, but Karissa has this awesome benefit at her job where she gets essentially 18 months off (unpaid) after having a baby and is guaranteed a job after coming back, though not necessarily the same job she left. We figured this was the perfect way to test whether she wants to join me at home or if she'd go crazy. I've been wanting to travel during this time. We debated renting an apartment in a few different cities for a month or so at a time, but Karissa likes the idea of having our home with us…and I like the idea of not being committed to a city we find out we hate after a few days.
Back to the RV show – it was a blast. We walked through RVs ranging from $7,500 to $200,000+ in price. The amenities and options available are mind-blowing. It's a really cool industry. And hard to believe that people spend more than the median house price on a toy.
The RV I had been wanting was a small one with toddler bunk beds in the back with the bathroom, a kitchen/dinette in the middle, and a queen bed at the front. No slideouts. No amenities. Lightweight and small. It was too small. It just felt cramped. And while we plan to spend our time in great weather, it just wasn't suitable for how we want to travel. Here's the layout:
So on we went to the larger trailers. We found one layout that seems to be repeated across all manufacturers. Master bedroom in the front, bathroom & full bunk beds in the back, slideout for sofa & dinette opposite kitchen in the middle. Here's the layout: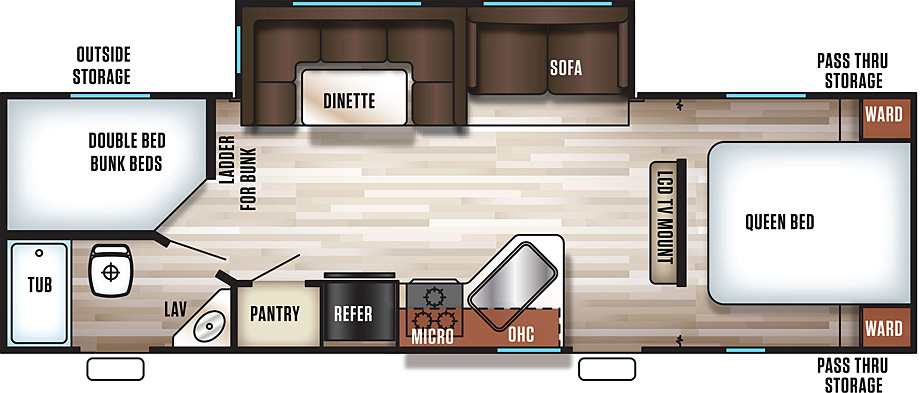 We didn't like the "wall" into the bedroom or the location of the TV – which requires you to "GASP" turn your head to watch. Don't get me wrong, we could live with this layout (and still might – given the favorable prices in the used market), but it's not ideal.
We kept wandering around when we hit upon this layout:

The TV is right in front of the sofa. It has a real wall for the bedroom. Everything else is essentially the same! Perfection!
Now I didn't realize you can buy RVs at RV shows. I thought it was like the auto show where you just browse models with no sales pressure. We started chatting with a salesman and got wrangled into getting a full-on quote. We said we weren't ready to buy today, so he brought the manager over to ask what he could do to get us to sign. I threw out a low-ball offer and said we need to sleep on it, even if they could make my offer work. They never called back, so we'll explore RVs this summer and likely buy after the summer when folks realize that storing an RV isn't fun and there's quite a bit of inventory.
We liked the price we offered for the RV – $15,000. Even their starting price of $18,000 wasn't bad. The biggest issue is that it weighs 7,200 lbs. That's too heavy for my truck and would require a 3/4 ton truck to tow comfortably for the number of miles we're planning. That's an extra cost and put us into a vehicle we didn't want. The small RV I had wanted weighs just 3,800 lbs and could easily be towed by my vehicle or a 1/2 ton truck – which we do want.
In the meantime, we've found a bit of a smaller layout than Karissa's ideal but larger than my small RV.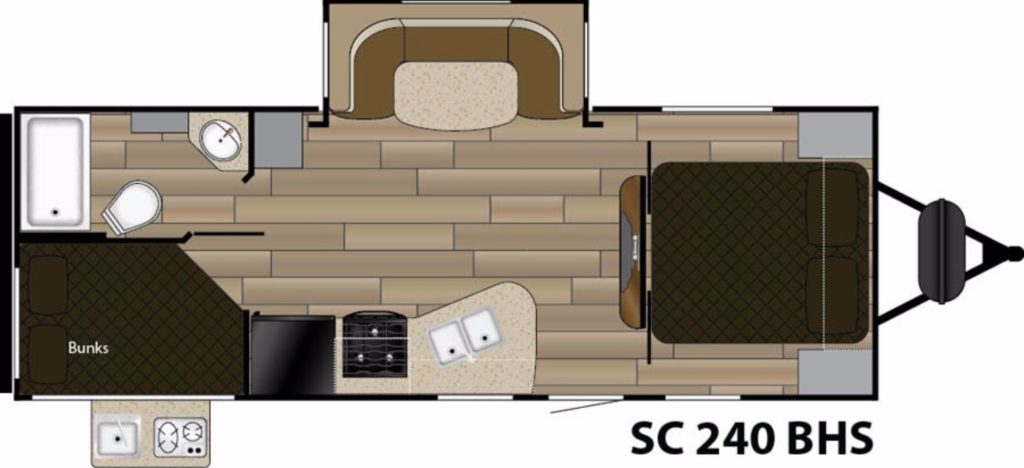 This layout eliminates the couch and is ~5 feet shorter because of it. It is also only 5,000 lbs, which can be towed by a 1/2 ton truck. We're planning to go to a few RV dealers in the area over the next few months, but I'm convinced we'll settle on something in this realm.